Fast and tracked delivery
Secure payment
Fast and tracked delivery
Secure payment

UPS technology
On Line Double Conversion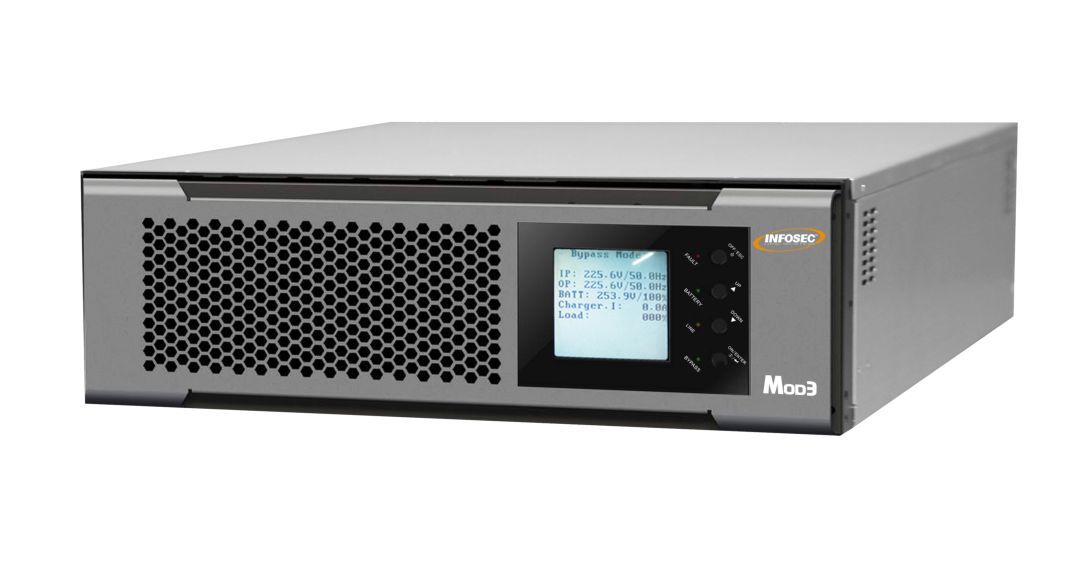 The most reliable protection
Mod3 UPSs are equipped with High Frequency On Line Double Conversion technology. The current delivered by the UPS is continuously and provides a better level of safety thanks to the guarantee of a constant voltage output and a total absence of interference. Critical applications to be protected are therefore perfectly supplied because they are independent from grid power. The switching time is zero, avoiding any micro-cuts. Redundancy ensures optimal continuity of service. In fact, in the event of a shutdown or maintenance on one of the modules, the load is automatically and instantly distributed among the other available modules: the equipment therefore remains fully protected and supplied even with a single UPS module! Thanks to this feature, it is also easy to increase the power of the UPS by adding a 10kVA module and thus adequately protecting a device that would require a power increase in the short or medium term. Mod3 can be configured with up to 10 UPSs in parallel for a maximum power of 100kVA.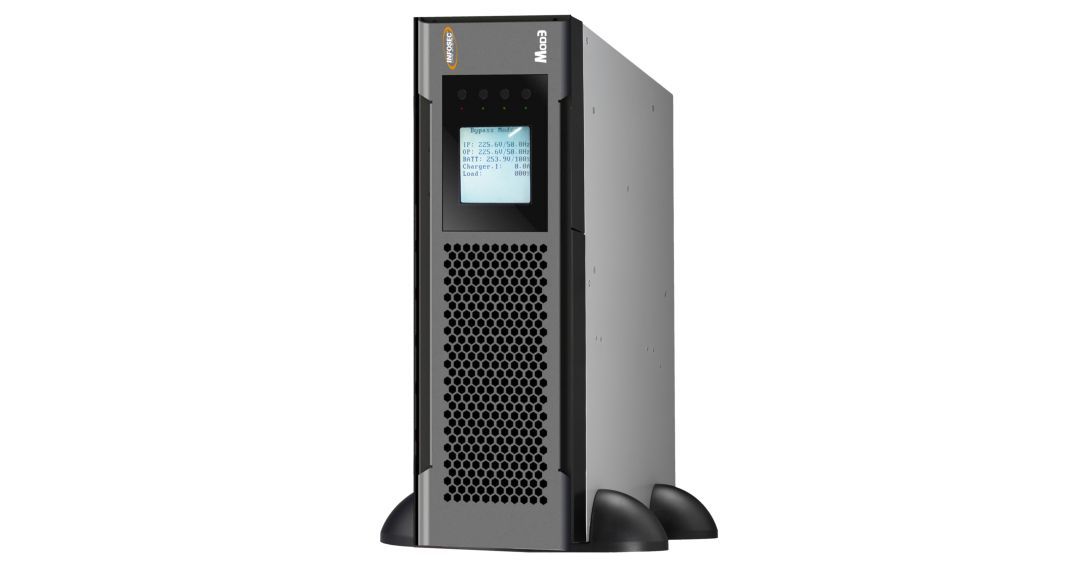 A range with many advantages:
- Available in mono/mono, tri/mono and tri/tri
- High Frequency On Line Double Conversion Technology
- The power modules have a power factor of 1
- Repetitive power supply protection with back-up function
- Parallel connection of 10 UPS with a common set of batteries
- Installation possible in tower or rack version in a 19U high cabinet
- Simplified maintenance (hot swap)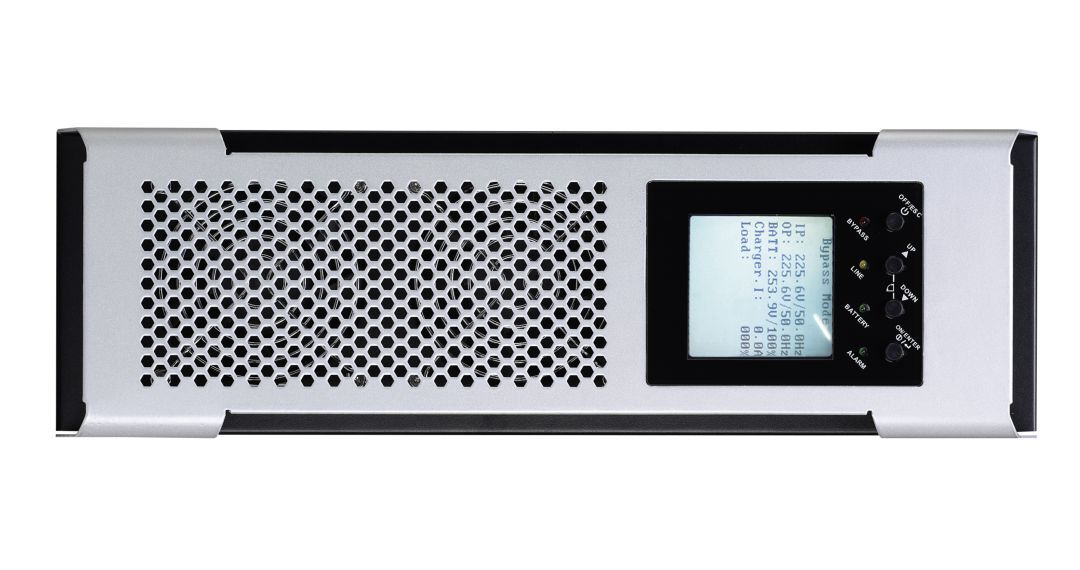 IN A PRE-CONFIGURED MOD3 C 19U BAY allowing the integration of up to 4 modules (UPS/backup module):
- The connection kit, required to connect the UPS and the backup time modules, is already integrated in the Mod3 C 19U bay.
- Its patented design makes it possible to add, hot-swappablepable, replace or remove the different modules very easily.
- The 19U Mod3 bay is made up of a 5.7 ? LCD display, 4 slots for UPS modules and/or backup modules and connection kits for connecting each module.
- Whether in mono/mono, tri/mono or tri/sort, here are the 3 possible configurations of the Mod3 C 40/10 (19U)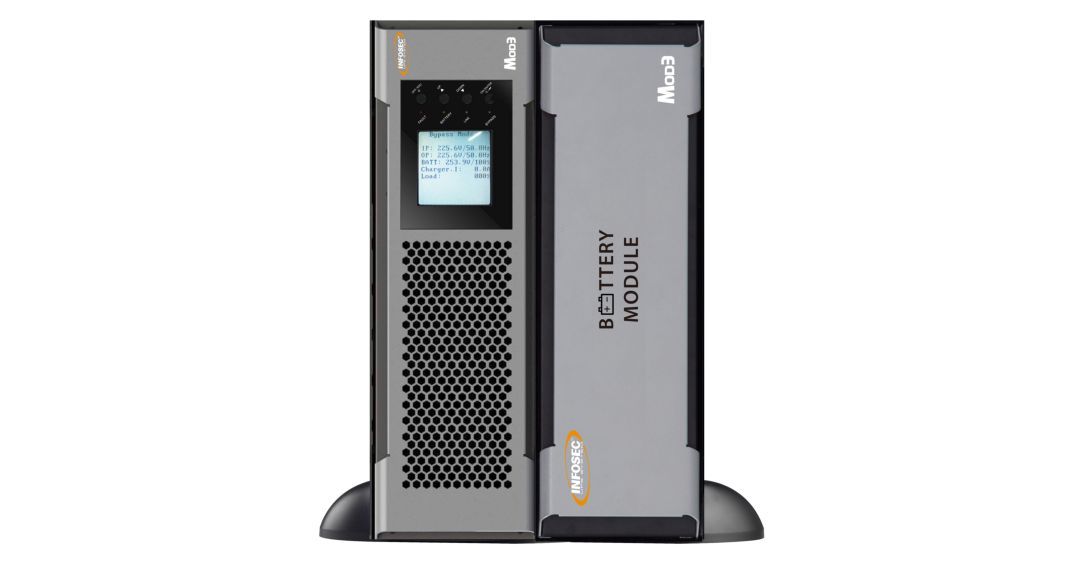 CONFIGURATION AND MANAGEMENT OF THE SOLUTION
Local configuration The LCD display and control buttons of the Mod3 UPS modules provide simple and effective access to the UPSs key information. Infopower control software supplied as standard
- Automatic closing of files in the event of a power failure: data preservation from all computers within a computer network
- Intuitive graphic interface: allows you to view the system status, the various readings, history of events, etc. Network configuration
- The USB port allows the use of communication protocols for IT infrastructures, data centers and telecommunication networks.
- An SNMP slot allows the addition of an SNMP agent (optional) in order to be able to remotely manage and control the UPS and its power supply via the network or the web.
- An SNMP vm minislot card (optional) can also manage the power supply and shutdown of virtual servers configured in VMware © or HyperV ©.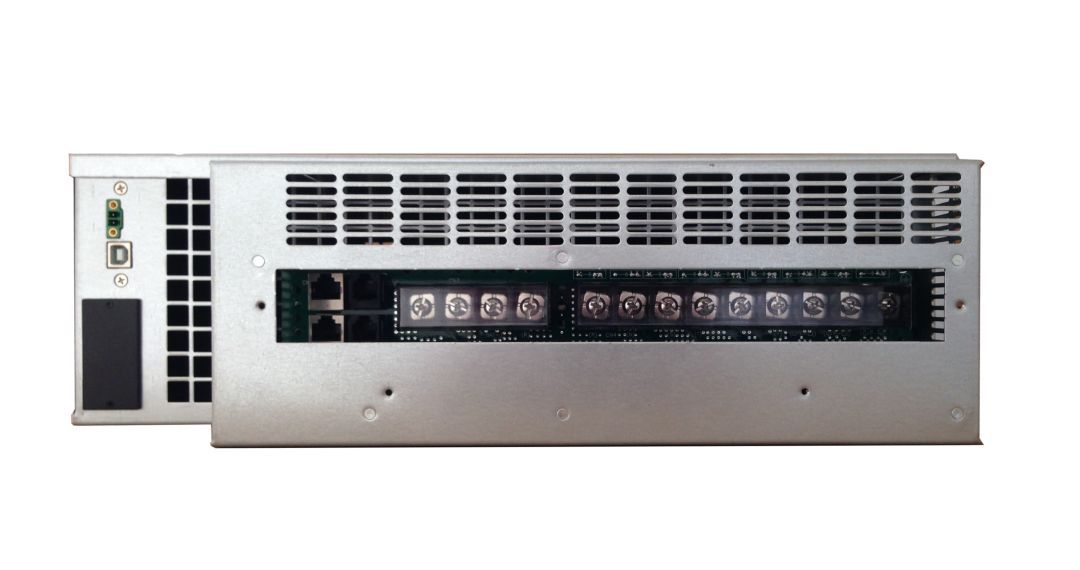 COMMUNICATION OPTIONS
Mod3 control module This module offers the possibility of having more dry contacts, EPO, RS232, USB and two additional slots for SNMP, Modbus, AS400 cards in order to meet all possible communication needs. It is integrated as standard in the Mod3 C bay (19U). Connection kit It allows the connection of the UPS or a backup module in stand-alone use (not integrated in a standard 19U patch bay, integrated as standard in the Mod3 C (19U) bay). Front panel module for rack-mountable bay This front panel is used to hide an empty slot in a bay when a module is missing. SNMP card for network management The use of the SNMP agent facilitates the management (local and multi-site) of the UPSs and network power supply thanks to its features: - Connection to Ethernet network and IP address identification - Configuration and programming of weekly (or other) system shutdowns and restarts - Local or remote parameter setting of the UPS SNMP card and vm minislot software solution for virtual network management The SNMP vm Minislot agent facilitates connected UPS management and virtual environments (VMware ?, Hyper V, etc.). Combined with the RCCMD application, it allows you to control the startup and shutdown of virtual servers and their associated equipment. Temperature sensor This sensor for detecting the environmental conditions of the UPS makes it possible to remotely monitor the temperature and humidity level of the room where the UPS is located. This sensor works by connection to the SNMP card, and can also receive dry contacts, making it compatible with security or alarm systems (intrusion sensor, for example). 10" Touchscreen A LCD touchscreen is also available in 10" for added convenience.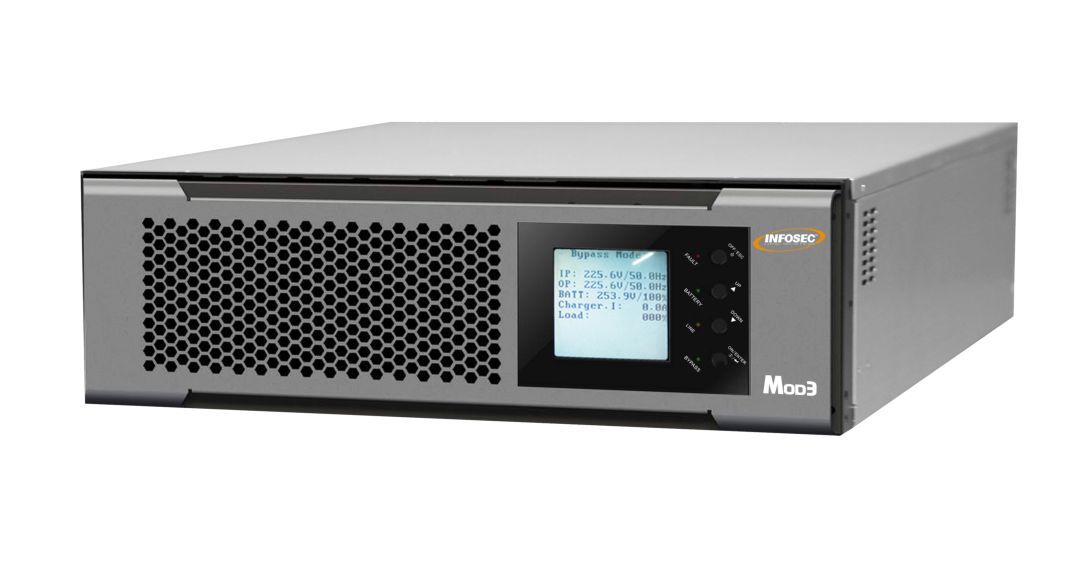 BACKUP MODULES
In order to benefit from an extended back-up time in demanding environments, 3 backup modules are available (192V, 240V, 384V): Single configuration Use of back-up modules in rack version in a standard 19U bay or in tower version (connection kit included with the backup module) Configuration in the Mod3 C bay (19U) Use of the backup modules in the Mod3 C bay (19U) (connection kit included directly in the mod3 C bay)
Technical specifications
General specifications
UPS technology: On Line Double Conversion
Power (VA): 10000
Power (W): 10000
Phases: Three-phase/Three-phase
Format: Exclusively rack
Modular: Yes
Physical characteristics
Product length (mm): 604
Product height (mm): 129
Product width (mm): 418
Packed gross weight (kg): 24
Input technical characteristics
Number of primary phases: 3
Type of connection: Terminal block
Nominal Voltage (VAC): 360VAC/380VAC /400VAC/415VAC (3Ph+N)
Output technical characteristics
Connection type: Terminal block
Voltage output type: AC
Wave form: Pure sine wave
Transfer time mains mode to battery mode (ms): 0 ms
Output connection
External battery connector: Yes
Outlets type: Terminal block
EPO slot: Yes
Regulation
Automatic Voltage Regulation (AVR): Yes
Efficiency
Eco Mode efficiency: 97
AC mode efficiency: 94
Battery
Type : voltage (V): 12
Type : amperage-hour (ah): 9
Charging voltage: +/- 218 V
Recharging time (minutes): 9 hours at 90% capacity
Material: sealed lead
Display
Indicator: LCD
Main display size (inches): 5.70
Optional display size (ounces): 10
Bypass
Standard static bypass (included): Yes
Manual bypass: External in option
Parallel connection
Parallelable: Yes
Max number of paralleled devices: 10
Parallel Kit: Optionally available
Management and communication
Communication via software available: Yes
SNMP: Yes
Environment
Maximum humidity (%): 95
Humidity range: 0 to 95% relative humidity @ 0-40° without condensation
Noise level: Less than 55dBA at 1 meter
Type: Indoor
Contenu du packaging
USB cable: Yes
RS232 cable: Yes
Multilingual Manual: Yes


Fast and tracked delivery