Fast and tracked delivery
Secure payment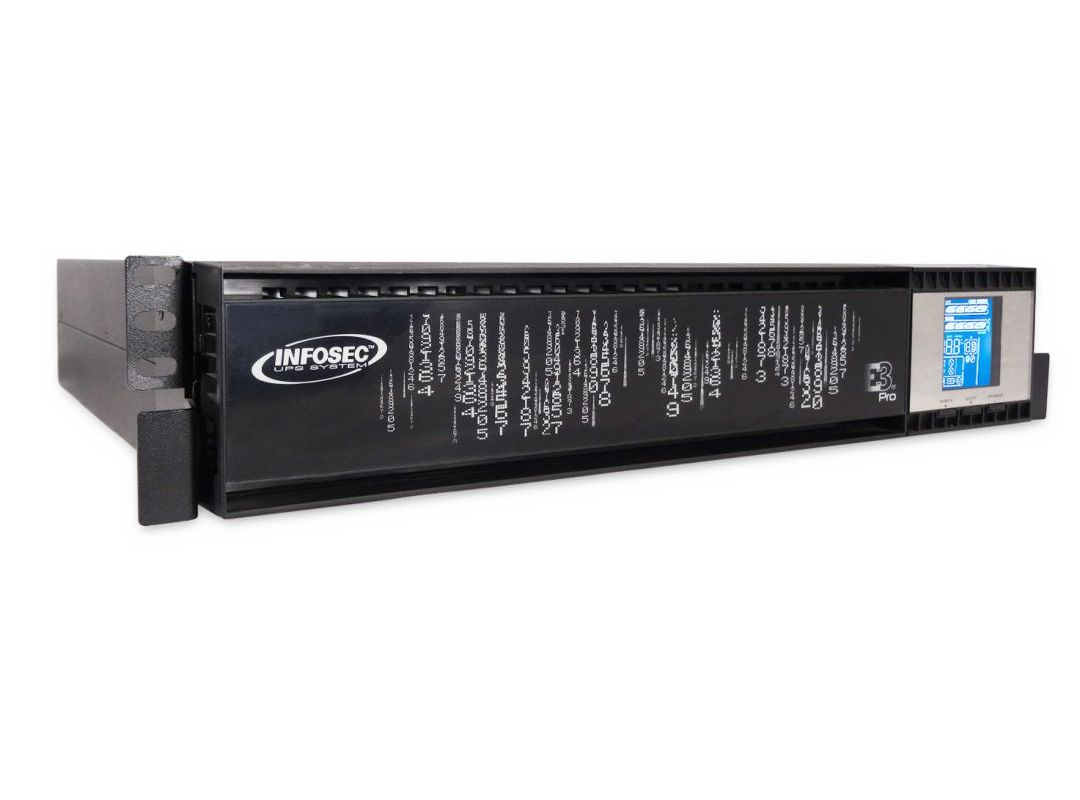 Fast and tracked delivery
Secure payment

UPS technology
On Line Double Conversion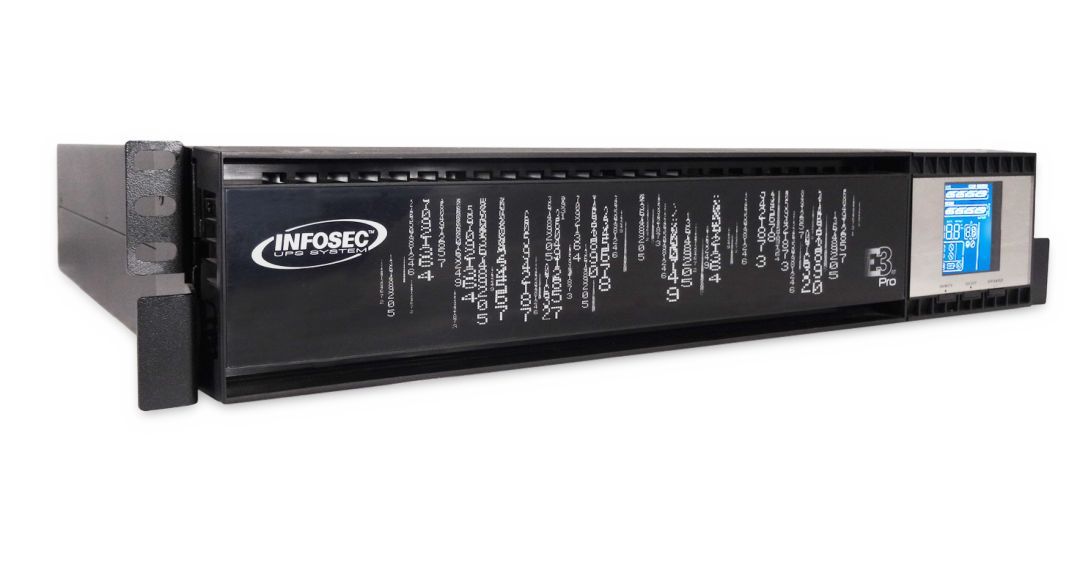 High-performance protection
Equipped with On Line Double Conversion technology controlled by microprocessor, the E3 Pro UPS range provides total protection and perfect sine wave current to your networks and devices in general. In the event of a power cut, up to 30 minutes of battery life ensures service continuity and enables the backup of sensitive data. An external battery connector allows the addition of dedicated battery cabinets to extend backup time according to needs and contexts (with battery status display on the UPS screen).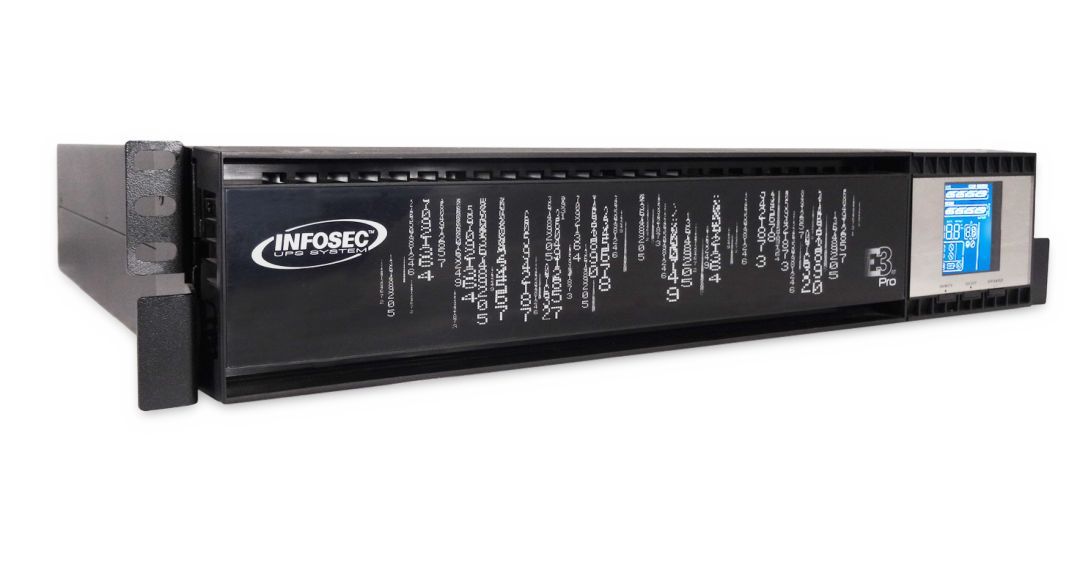 Backup time extension
Thanks to its powerful integrated battery charger (from 1A to 6A depending on the model), it is possible to add the number of battery cabinets necessary to ensure enough backup time.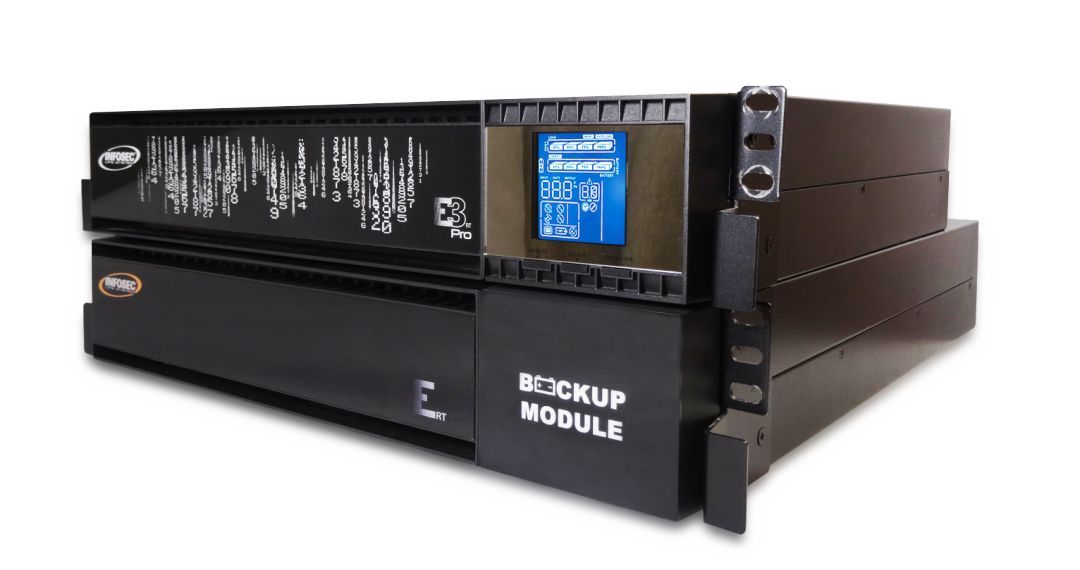 Ideal format
The E3 Pro range is made up of 2 versions designed for easy installation:
- E3 Pro RM 1000 VA is a 1U rack format UPS that can be easily integrated into a 19'' server bay
- E3 Pro RT from 1000 to 10k VA is a range of versatile UPSs designed for easy integration into a wide variety of environments: horizontal, in a patch bay thanks to fixing brackets (included), or vertically, in a "tower" position thanks to its base (included).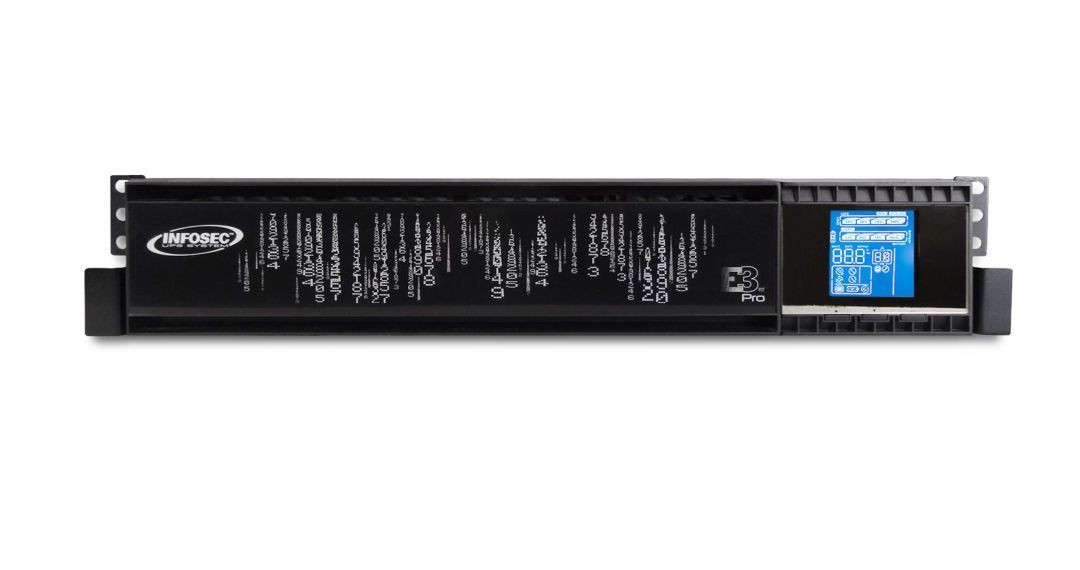 Economic and ecological features
- For maximum recharging between successive power cuts, an integrated charger reduces battery charging time (90% in just 4 hours). Thus, maximum recharging can be guaranteed between successive power cuts
- The cold start function allows emergency start-up of connected equipment
- On return of grid power supply, the E3 Pro performs an automatic restart
- Battery recharging is automatic as soon as power is restored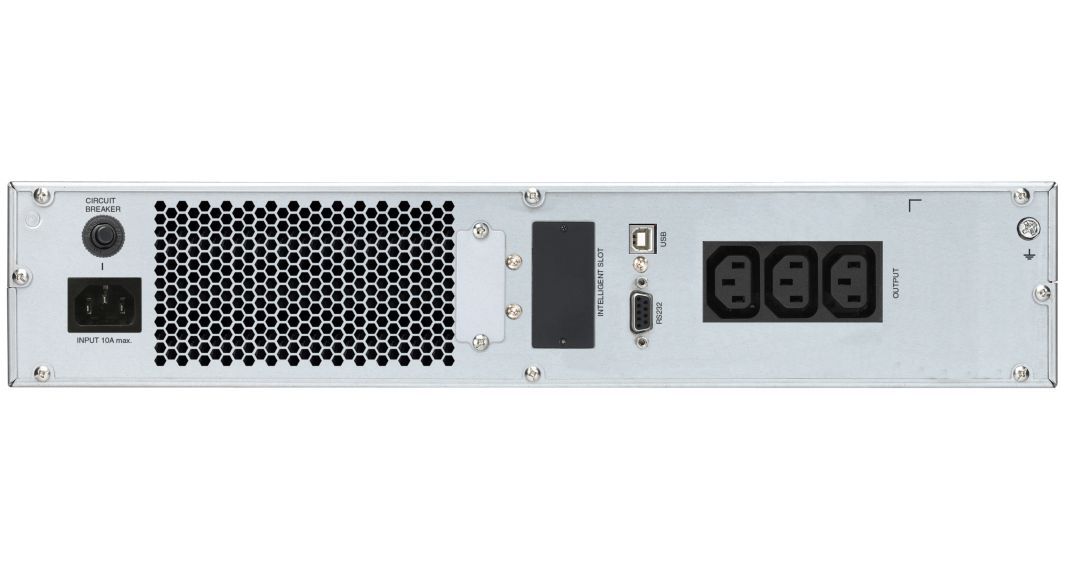 A SOLUTION FOR ALL KINDS OF NEEDS
Power factor of 0,9
- Optimal output power factor (0,9).
- High performance level
- High efficacy for critical uses Flexible design
- 2 in 1 design for simplified installation User-friendly LCD display
- Precision and user-friendliness: status and parameter values given in real time
- Rotating LCD display which adapts to the tower configuration
- Intuitive display on the front panel: direct access to the UPS settings for modifying operational modes. EPO / CPAU emergency stop command This port is dedicated to the installation of a CPAU for the safety of personnel and equipment in an emergency and allows total and immediate shutdown of the UPS (5-6-10k RT models).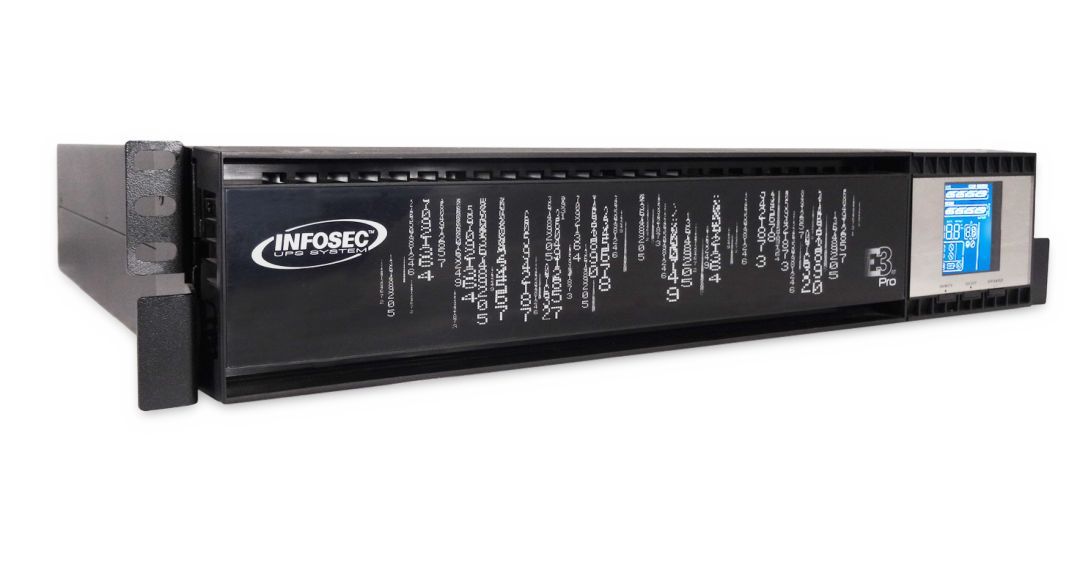 Communication
The E3 Pro are equipped with USB and/or RS 232 ports to allow communication between the UPS and the various stations and protected computer servers. The control is carried out using the Infopower software. Infopower software
- Management software supplied as standard
- Automatic closing of files in the event of a power failure: data preservation of all computers on a computer network
- Intuitive graphic interface: allows you to view the status of the system, the various readings, event history, etc. SNMP agent (optional) An SNMP slot allows the connection of an SNMP agent and the use of the associated software for remote control of the UPS.
Technical specifications
General specifications
UPS technology: On Line Double Conversion
Phases: Single-phase/Single-phase
Format: Versatile rack/tower
Output technical characteristics
Voltage output type: AC
Wave form: Pure sine wave
Management and communication
Communication via software available: Yes
Compatible communication software: InfoPower
Check items to add to the cart or
Check items to add to the cart or
Applications universes

Data virtualization is now prevalent in companies which optimize the resources of their physical servers by running multiple instances of virtual servers in order to improve flexibility, manageability, and security of their data.The importance of electrical protection in a virtual environmentEnsure ...
Read More »

Our world is digitalized, connected and many interdependencies exist. The amount of data flowing through the internet is increasing every second and we are becoming more and more dependent on the web. It becomes essential to protect your internet connection from possible power cuts with a UPS.The ...
Read More »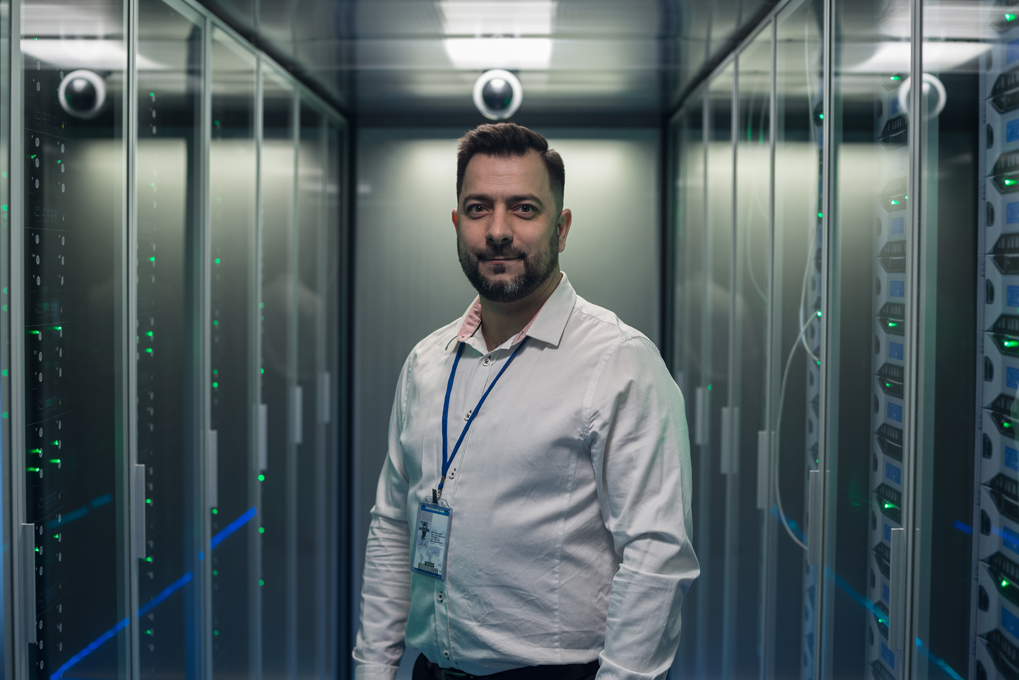 To choose the type of UPS you need, you need to know the different types of UPS available. ...
Read More »
Check items to add to the cart or



Fast and tracked delivery